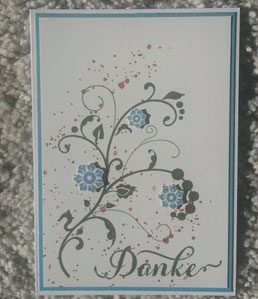 I just had time for a quick card this week and I chose to take up the CAS challenge again. It is about colours this week. Unfortunately I do not have the colour Alway Artichoke so I had to substitute using Mossy Meadow instead. It is darker and a bit greener, but it's the closest I have.

The colours let me think of autumn which is already in the air. So at first I wanted to do something with leaves, but then I got the idea to try this option. Sorry for the bad picture, the light got messed up somehow...

I stamped the flowers, cut them out and used 3D Pads to get more dimension. I might add some rhinestones later, the card could use some sparcle...

"Danke" means "Thanks" in German :) We do not need the "you" to make it sound more formal, maybe because we do use a formal adress for strangers and a informal one for friends. To thank an unknown person, one would have to use a longer but formal version or rephrase the whole thing. So we just use one word that fits all :)