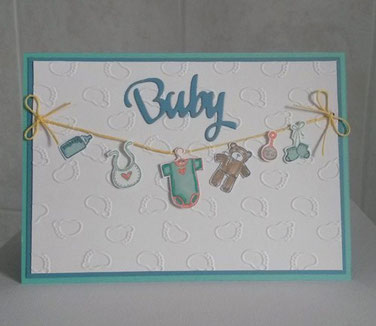 I have about ten ideas what to do with this weeks CAS-Sketch, but I started out with this one.  I just felt like cutting things out would be nice :)

The colours are CrispCanteloup, Jade and Marina Mist. I also used some yellow twine and embossed the cards background. The Baby items are from the Stampin Up Set called "Fürs Baby" in German. I cut them out and coloured them using the corresponding markers. Couldn't bring myself to paint the teddy bear anything else but brown.

I made a second version using candeloup as the primary colour, but I prefer the better contrasts of the blue one.

Hope you'll like it!