Sometimes, life is not about birthdays, babys and weddings, sometimes there are darker sides to it that have to be accepted never the less. So, unfortunatly this week is a time for a sympathy card.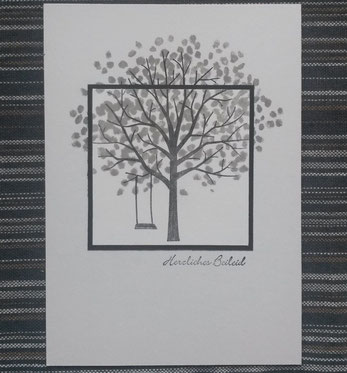 I do like the tree as a symbol for the changing of times, the endurance of things and the start of something new as the seasons pass by. For that, the set "Sheltering Tree" is just perfect. I added the swing to indicate that someone is missing from the picture, unable to enjoy the up and down of swinging and life itself.
The white square measures 6,4x6,4 cm, I stamped the tree both on the square and on the card base. I intended to use a lighter grey for the background leafs and a darker one for the square, but somehow my Basic Grey comes out much lighter than Smoky Slate even though it looks darker on the outside. I have to look it up if that is intentional, or if my inkpad is not right somehow.
The text roughly translates as "With sympathy", it is very hard to translate it word by word though. "Beileid" means something like "suffering with someone". But it is a noun, so in this sense, it's something you give to the person who lost someone. "Herzlich" (more or less like "cordially") means "from the heart", the expression is used in many circumstances like "Herzlich Willkommen" (Heartfelt Welcome), or "Herzlichen Dank" (Heartfelt Thanks). All these expressions are set phrases however and their exact meaning is not that important. People don't think about it, I guess...